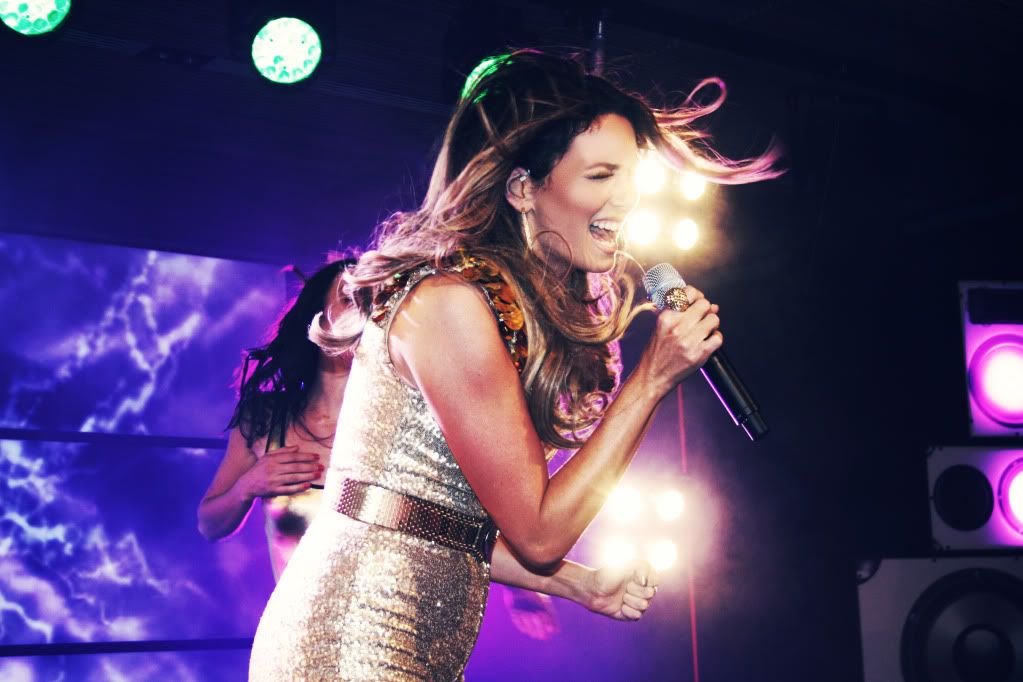 A few weeks ago,
COVERGIRL
announced and launched
Ricki-Lee Coulter
as their Australian ambassador. The night was filled with Ricki-Lee's ever so energetic voice, singing a few numbers including new single "
Crazy
". Reading her responses to my questions, you can really see how enthusiastic she is! Being an artist is not easy, and through out the years, we see her jump every hurdle that get's thrown at her. This year not only is she doing a lot in her music career but also adding
COVERGIRL
to her list.
COVERGIRL
explains the need of having a local ambassador here in Australia, "to gain an emotional engagement and connection with someone they trust and admire."
Read the interview below to find out how she's juggling her life right now, her favourite COVERGIRL products and her personal advice on make up!
This year seems to be a big one for you, with your album Fear and Freedom and tour soon to release later this year and becoming a COVERGIRL ambassador. You have a lot going on! How are you taking all this?
Writing, recording and releasing three singles and an album and going on a national tour all in one year…I must be crazy! haha. I'm a person who doesn't often stop and look back at what I've been doing, because I'm always looking forward at what's next. But looking back at the past year - I am so proud of everything I've achieved. I've worked my butt off and I have believed in myself more than I ever have and I also have an amazing team of people I work with every day that believe in me, support me and help me bring my crazy and grand ideas to life! My dad always told me that I can do anything I put my mind to, and I've always been an extremely driven person and a hard worker – but over the past year I've challenged myself and pushed myself further than I ever thought I could and through doing that I've proven to myself that I truly can do anything I put my mind to. I never could have dreamed that I'd be a Covergirl though! That is still so surreal!
What's it like being part of a such an iconic global brand like COVERGIRL?
I have to pinch myself when I see my face on the CoverGirl ad. To be alongside such wonderful and inspiring women like Drew Barrymore, Ellen DeGeneres & Taylor Swift is such an honour. I've always flicked through magazines and looked at the women in the ad campaigns and tried to achieve the different looks and now that girl is me! I have always loved make up ever since I was a little kid, and as an artist and performer I have many sides to my personality that I love to bring out with different make up looks - so it's really a perfect fit!
What are your personal favourites from the COVERGIRL product range?
I've become slightly obsessed with the CoverGirl Lip Perfection lipstick in the most amazing bold red hue called 'Hot Passion'! I've never been one to rock a red lip but this colour is so bright and vibrant – it's a real showstopper! But at heart I'm a smokey eye kinda gal, so the SmokyShadowBlast Eyeshadow is a perfect 2-in-1 for me to get that beautiful bronze/brown smokey eye colour that I love. Then with a slick of the LineExact Liquid Liner and a few coats of the LashBlast Fusion mascara – I'm good to go!
If you could only carry one COVERGIRL item, what would it be?
The Wetslicks Fruit Spritzer lip gloss – I have one in every handbag! I travel a lot and I don't like to wear make up when I fly - so my go-to is a big pair of sunnies, my hair swept up in a bun and my Covergirl lip gloss! No fuss!
What would be your personal advice on using make up?
Make up is a way of enhancing your natural beauty – and every woman has a particular feature they like to enhance wether it be the eyes or the lips or the cheek. My advice is always to focus on one feature at a time – so if you are going to do a bold lip, do a neutral eye. And if you are going to do a dark smokey eye – go for a nude lip.